How do I become a Referee?
While some previous playing, coaching or officiating experience is always helpful, no experience is required to become a soccer referee.
There are no age requirements for the entry level Grades. There are age restrictions for advanced grades.
To become a certified referee, there are a few easy steps everyone must go through:
You must attend a mandatory classroom training session. These "Grade 8 Entry Level Clinics" are offered in many locations around the state each year, most often during August-October and again January – March.
There are two types of Entry Grade 8 Clinics
Hybrid Entry Clinic – After registering for the clinic, and paying the associated fees, an Online lessons button will appear on the Home page, for online lessons to be completed. All of these lessons must be completed before the Lesson Cutoff date in order to attend the 8 hour In-Person portion of the clinic. Testing is done within the online lessons.Fully In-Person Entry Clinic – This is a full 16 hour (2 day) In-Person Entry Grade 8 clinic with no online lessons. A written test will be given in the class.
At the conclusion of the instructional class a badge will be given to the attendee.
Once you successfully completed the course you are registered through STSR with U.S. Soccer.
Once you are registered, contact our local assignor and start referring games!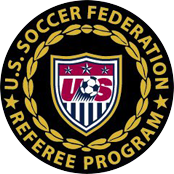 ENTRY LEVEL
Check Available Dates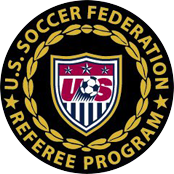 RECERTIFICATION
Check Available Dates