Promoting team spirit, good sportsmanship, and fair play
Welcome to Coastal Bend Youth Soccer Association
2018 Scholarship Recipients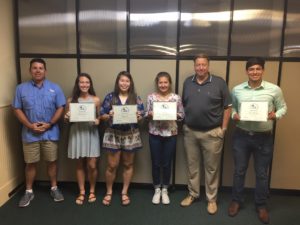 The Coastal Bend Youth Soccer Association held its annual 2018 CBYSA Scholarship Award Ceremony on Tuesday, June 12, 2018.  Cameron Perry, CBYSA's 2nd Vice-President had the honor of awarding the 5 individuals (only 4 were able to make the ceremony).  The 5 recipients for this year's 2018 CBYSA Scholarship awards went to:  Deisha Trammel, Hector Elizondo, Jaylin Seto, Maddie Good, and Rachell Aranda.  Congratulations to all of the seniors for all of their hard work and dedication.  We are all very proud of them and look forward to seeing them succeed in the future.
Youth Indoor Soccer Futsal
The Boys & Girls Clubs of the Coastal Bend will be hosting an "INDOOR" Soccer Futsal Season.  Opening Day will be July 14, with a coach's/parent meeting on July 12 at 6:30 p.m.  End of the Season will be August 25.  Games will be at the BGCCB.  Costs will be $65 and will include 7 games, medals, team/individual photo and a t-shirt.  You can get more information at http://www.bgccb.org or by contacting Joe Guzman at (361) 853-2505 or jguzman@bgccb.org
CBYSA Jamboree 2018
CBYSA will be hosting a Jamboree on September 9 at Bill Witt Soccer complex on Rodd Field Road.  All 4 coaching modules will be presented there.  More information to be posted soon.
Fall 2018 Season
The Fall 2018 Season is quickly approaching.  The plans for the Fall are to start the local competitive teams (U11 – U18) on Saturday, September 22, 2018.  The Division 3 (U11 – U18) and the Division 4 Under 10 teams will begin on Saturday, September 29, 2018.    You can find the Commitment to Play form by clicking this link ctp FALL 2018 .
Division 2 Teams Playing Local

Commitment to Play Form Due: 8/25/18

Time: 7:30 p.m.

Start of Season: 9/15/18

Coach's Meeting: 9/5/18

Boys & Girls Club of the Coastal Bend

3902 Greenwood

Corpus Christi, TX 78416

Division 3 & U10 Teams Playing Local

Commitment to Play Form Due: 9/1/18

Time: 7:30 p.m.

Start of Season: 9/22/18

Coach's Meeting: 9/12/18

Boys & Girls Club of the Coastal Bend

3902 Greenwood

Corpus Christi, TX 78416
HIGH SCHOOL CUP
This Fall, we will also be hosting the High School Cup.  The High School Cup
Current field conditions
| | | |
| --- | --- | --- |
| Express/Salinas | Open | Directions |
| Gregory-Portland | Open | Directions |
| Padre Soccer | Open | Directions |
| Port Aransas | Open | Directions |
| San Patricio | Open | Directions |
| Santa Fe | Open | Directions |
| South Texas Futbol Club | Open | Directions |
| Sting Soccer | Open | Directions |
| Titans | Open | Directions |
| Tri City | Open | Directions |